Towards a new generation of agricultural system data, models and knowledge products: Information and communication technology
---
Abstract
Agricultural modeling has long suffered from fragmentation in model implementation. Many models are developed, there is much redundancy, models are often poorly coupled, model component re-use is rare, and it is frequently difficult to apply models to generate real solutions for the agricultural sector. To improve this situation, we argue that an open, self-sustained, and committed community is required to co-develop agricultural models and associated data and tools as a common resource. Such a community can benefit from recent developments in information and communications technology (ICT). We examine how such developments can be leveraged to design and implement the next generation of data, models, and decision support tools for agricultural production systems. Our objective is to assess relevant technologies for their maturity, expected development, and potential to benefit the agricultural modeling community. The technologies considered encompass methods for collaborative development and for involving stakeholders and users in development in a transdisciplinary manner.
Our qualitative evaluation suggests that as an overall research challenge, the interoperability of data sources, modular granular open models, reference data sets for applications and specific user requirements analysis methodologies need to be addressed to allow agricultural modeling to enter in the big data era. This will enable much higher analytical capacities and the integrated use of new data sources. Overall agricultural systems modeling needs to rapidly adopt and absorb state-of-the-art data and ICT technologies with a focus on the needs of beneficiaries and on facilitating those who develop applications of their models. This adoption requires the widespread uptake of a set of best practices as standard operating procedures.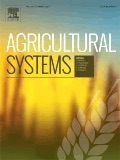 Published as:
S. J. Janssen, C. H. Porter, A. D. Moore, I. N. Athanasiadis, I. Foster, J. W. Jones, J. M. Antle, Towards a new generation of agricultural system data, models and knowledge products: Information and communication technology, Agricultural Systems, 155:200-212, 2017, doi:10.1016/j.agsy.2016.09.017.
---
---